For homeowners:
Watering
Watering tips
Most lawns need about 1 inch of water per week. Reduce or eliminate watering based on rainfall amounts.


Donít apply water faster than the soil can absorb it. If you see puddles or runoff, shut off water and reduce the application rate next time you water.


Use tuna cans distributed on your lawn to measure your irrigation systemís application rate and uniformity.
Water requirement
Keep in mind that different grasses have different irrigation requirements. If you donít have an irrigation system or if you donít want to have to water your lawn as a routine practice, select a grass that can tolerate dry conditions or one that does not have a great need for irrigation. When it comes to irrigation requirements of our cool-season grasses from least to most, fine fescue has the least, then tall fescue, perennial ryegrass and Kentucky bluegrass has the most.
Amount Needed
In general, lawns need about 1 inch or more of water per week depending on the grass, soil properties, and weather conditions. Water use and loss by all plants are influenced by temperature, relative humidity, and wind so adjustments need to be made based on these climatic factors. (See ET information below.).
Problems occur when we follow the habit or routine of watering each week at a certain day and time and donít take into consideration recent weather conditions. Have you ever seen a home lawn irrigation system running when it is raining? That can be a waste of a precious resource.
Poor watering practices can do more harm to your lawn than good. Excess water can carry pollutants out of your yard and into waterways.
There is no benefit to the grass or the environment when more water is applied than the soil can take in or the grass really needs. In fact, overwatering can impact plant health and actually encourage certain grass diseases to develop and weeds like annual bluegrass to dominate. Overwatering can move nutrients past the plantís root system and possibly into the aquifer where our drinking water is stored.
Grass leaves with plenty of water quickly return to their rigid upright shape while leaves lacking water will remain flattened for a period of time. If you see a bluish-green color or when footprints remain after walking across the grass it is time to water.
What about during the summer?
In the summer, it is natural for cool-season grasses to go dormant if it is dry. Dormancy is a natural survival mechanism. Turfgrass leaves will cease to grow and turn brown during extended dry periods. Even though the leaves are dead, the roots and crown of the plant remain alive. Turfgrass can remain dormant for 6 weeks without suffering signifcant damage.
After an extended period of dry conditions, the dormant turf can be watered with 1 to 1Ĺ inches of water to provide moisture to help the crown and root system survive. The turf will develop new leaves and begin to grow actively once favorable moisture conditions return by either rainfall or irrigation.
Amount to apply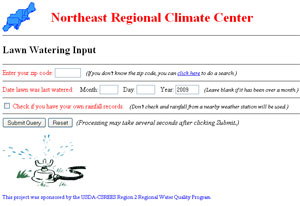 The key to effective watering is to replace only the water lost by the grass plant and the soil. ET (evapotranspiration) measures the water lost from the soil through the leaves and through the soil surface. Knowing the ET for your area can help you determine more precisely that amount of irrigation that is needed.
Try using the information provided by the Northeast Regional Climate Center's Lawn Watering Input website to adjust your watering practices to conserve water while providing your lawn with the right amount of water.
Just enter your zip code and the last date you watered the lawn and it will calculate how much water should be applied.
The Cornell Cooperative Extension of Suffolk County website also supplies weekly ET and precipitation records to help you determine how much water your lawn may need.
Know your soil
The difference in soil texture will influence how much and how often to water your lawn. Soils that contain clay and organic matter are able to hold more water and need to be watered less often than sandy soils. Sandy soils and other coarse-textured soils are typically well drained. So water moves quickly through these soils. So watering smaller amounts more frequently would be better than supplying all the water at one time. If you need to supply 1Ē of water on well-drained soils split the application and water ĹĒ twice.
Fine-textured soils (those with more clay in them) can hold water and could receive a good soaking. Check to be sure you are wetting 4-6Ē of the soil profile to encourage a large root system. You can use a rod or long screw driver to determine the depth of water penetration. The rod will move easily through wet soil but will stop and become difficult to push when it reaches dry soil. Mark the rod at the soil line and pull it out. This will indicate the depth of water penetration.
Over irrigation can be the main cause of high nitrate levels in groundwater in suburban areas.
Avoid runoff
To avoid potential runoff do not water soils that are wet! Itís also important to apply water no faster than your soil can soak it up (infiltration rate).
When your irrigation rate (how fast you are watering your lawn) exceeds the infiltration rate, puddling occurs on level areas. On slopes, the water will run off and can carry sediments and other pollutants with it.
To avoid this, measure your soilís infiltration rate by cutting off both ends of a coffee can and inserting it several inches into the soil. Pour about 1 inch of water into the can and time how long it takes to soak in. Then measure your irrigation rate by placing a coffee can (with the bottom intact) in the area watered by your sprinkler and time how long it takes to fill the can with 1 inch of water. Your irrigation rate should not exceed your infiltration rate.
Make sure your sprinklers water the lawn and not the driveway, walkway, or street.
In-ground irrigation system performance
Automatic irrigation systems that were designed and installed properly and programmed correctly can apply water uniformly without wasting water. But if they are not, they are likely over or under irrigating your lawn.
On average, Suffolk county receives about 3-4 inches of rain each month during the growing season so irrigation may not be necessary. Over irrigation, which wastes water, can happen if your system has been programmed to irrigate when water is not needed as well as starting too early or stopping too late in the season. Watering before June and after mid-late fall may not be necessary at all.
Some systems have controllers that are programmed to turn the system on and off on a certain day and time to provide a predetermined amount of water. You may want to have rain sensors to determine whether an irrigation cycle is necessary or not.
Your system should be programmed to adjust for weekly watering needs based on ET levels (see above).
Homeowners need to be proactive and check their system once a month to be sure it is functioning efficiently or effectively. Are all the heads working? Is the grass being watered and not the street or driveway?
Checking your irrigation system
To determine the amount of water being applied by any sprinkler, place shallow straight-sided cans (a standard tuna fish can works well) or containers in a grid pattern around the sprinkler. Turn on the sprinkler for a specific amount of time. Measure and compare the amount of water collected by checking it with a ruler. This can serve as a guide in determining the amount of water supplied and the uniformity your system applies.
Be sure to check your irrigation system at least monthly and during the daytime so you can see if it is running properly.
Time of day to irrigate
Irrigate in the early morning (4:00 Ė 8:00 a.m.) when there would be little water loss due to evaporation and before the grass needs much water for growth. However, this period may not be a convenient time for most people.
Watering mid-day is less efficient because of rapid evaporation and because strong winds may cause uneven water distribution.
Another time for watering would be between 10 p.m. and 6 a.m. Water pressure is high during this time providing better spray coverage and there would be less water loss from evaporation. Also, this time period overlaps the turfís natural dew period. Dew contains substances exuded from plant tissue that increase the growth of pathogens. The spores of most turfgrass pathogens germinate when grass blades are wet for longer than 14 consecutive hours. The goal should be to minimize the amount of time the leaves are wet if disease avoidance is also a goal for your lawn.
If you water at night, make sure your irrigation system is checked periodically during the day time to make sure it is running properly.
Remember to follow any local watering restrictions that are in place to conserve local water sources.